Nazanin Hedayat Munroe, M.F.A., Ph.D.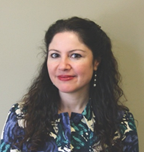 Nazanin Hedayat Munroe is a New York-based artist, curator and art historian. She received her Ph.D. in art history from University of Bern, Switzerland and M.F.A. in Fiber from the Cranbrook Academy of Art. Specializing in historic garments and woven textiles from the Early Modern Persianate world, she has published several articles with The Metropolitan Museum of Art (NYC) as well as other scholarly journals. Read Publications
Also maintaining an active studio practice, Dr. Hedayat Munroe has exhibited her multimedia installations at museums and galleries across the United States, and has received national acclaim for her work. Most recently, she has been experimenting with smart textiles (e-Textiles) in dialogue with Persian iconography that combine her historic research with 21st century technology. Her body of work is composed of handmade garments and textile-based installations, exploring and reinterpreting historical textile motifs as expressions of cultural identity. Her studio practice includes weaving, silk painting, silkscreen, weaving, and surface embellishment. View Gallery
Dr. Hedayat Munroe is Director of Textile Technology and Associate Professor in Business and Technology of Fashion at NYC College of Technology, where she designed, opened and is Director of the Textile Lab at City University of New York. Visit Nazanin Hedayat Munroe's Faculty Page
See announcement below (March 2023) Read more about the Textile Lab online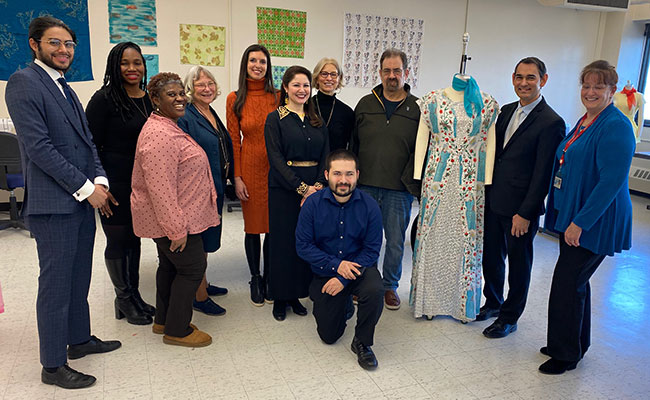 Photo Credit: Matthew Stanton
On March 16, 2023, Dr. Nazanin Hedayat Munroe, Director of Textile Technology and Associate Professor of Business & Technology of Fashion, led a tour of the College's new Textile Lab facilities. Joining the tour were (pictured from left): Eliel Morales (Textile Lab CLT), Lourdes Smith and Ronda King-Lord (Star Center), Dr. Pamela Brown (Provost and Vice President for Academic Affairs), Rachel Raskin (Chair, Business Department), Dr. Nazanin Hedayat Munroe and Dr. Denise H. Sutton (Business & Technology of Fashion), Joshua Gonzalez (Media Services), Dr. Lucas M. Bernard (Business), Dr. Justin Vazquez-Poritz (Dean, School of Arts and Sciences), and Dr. Maureen Archer-Festa (Dean, School of Professional Studies).